Employers often express frustration with the 'unreadiness' of school and college leavers for the world of work, describing a lack of enthusiasm and reliability, poor communication and planning skills.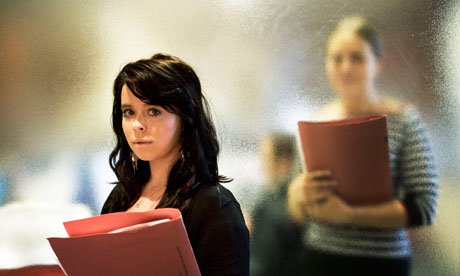 Last night I read a great and heartfelt piece by a young lady I was lucky to meet in 2012, Abi Kasipillai. Abi is a graduate living in South London, and she is heartily sick of the way she and other young people are portrayed. I have to say I agree with her.
Of course, 'adults' eyeing young people with frustration, suspicion and even contempt has gone on since time immemorial. We always believe we worked harder, had it tougher, were more respectful of our elders and behaved better. Cast your mind back. I bet you weren't the perfect student, employee, child or member of society you like to believe. I'll admit I wasn't, and so I'll challenge you to do the same.
Did your parents ever say "You treat this place like a hotel", "While you're under my roof you live by my rules", or "What do you think you look like, going out like that"? And have you caught yourself saying it to your own children and cringing inside, knowing you've broken every promise you ever made yourself that you'd be a cool parent?
When did we become the people who looked down on others starting out in the world? Shouldn't we stop it?
Last August I spoke with Stephen Twigg, Labour's Shadow Education Secretary, about the need for employers and educators to work in closer alignment to prepare students for the workplace. I asked what the party proposed to do to tackle the issue of youth unemployment, poor links between schools and colleges and business, and how to tackle the skills gap if they were returned to power at the next General Election. He confirmed that they were forming initiatives that would address many of the points raised, but asked that I await further information which would be set out at the party's annual conference by Ed Miliband.
I agreed, and in October I listened intently as Ed set out plans for 'the forgotten 50%' of students who, having no desire or leaning to progress to University, often find themselves in low-paid jobs with few prospects- or worse, left to drift aimlessly with the dreadful, damaging label of 'NEET'- Not in Employment, Education or Training. The proposal is for a 'Technical Baccalaureate' to recognise technical and practical skills with a qualification equivalent to three 'A' levels.
So there are ideas in education, but this particular one depends upon whether we have Prime Minister Miliband or Cameron in 2015. It shouldn't. Too many more young people will be labeled and damaged by unemployment and lack of opportunity before then.
So what is business doing to form connections with educators? For them to have a hope of meeting our expectations, surely we need to tell them what it is we need to see in young people entering the job market? I am not talking here about detailed job specs for roles we may or may not wish to fill in three years' time, but the basic, functional skills we need to see in any new employee- such as forward thinking, proactive behaviour, and people skills. Many teenagers I know seem to have a natural talent for social networking. They also show good problem solving and planning skills if given the chance.
I am glad to see the CIPD seem to think it's about time we changed things, too.
This morning I met with a trustee of the Construction Youth Trust, to learn how my clients in the construction industry might get involved and extend a hand to encourage young people, women and young offenders to become a part of the industry, develop new skills and kickstart their career. There is a real skills problem in this field, which has taken the severest battering in the economic storm we've experienced since 2008. It's not seen as a 'desirable' industry to get into, but it is work that can often be hugely rewarding. We will definitely be working with CYT, and I am really excited to take the next step in establishing a relationship with them.
In my work with Bastows under their community and social responsibility initiative, we have formed a strong alliance with the Leatherhead Youth Project, run to give students at local secondary schools a place to be, to flourish and to develop some of the skills I've talked about above. The project is staffed by a dedicated and creative team led by Andy Gill, who is always on hand to offer guidance, information and advice where needed. They recently opened All Saints Coffee
offering local young people the opportunity to learn about working, the day-to-day
running of a business, customer service and team effort.
How many local businesses have got involved with this fantastic group, working with them to support their efforts, set out what employers want to see, helping these kids develop presentation skills or CVs and increase their employability - or even identify future talent?
One.
While I am proud that's a company I work with and for, I am also ashamed that business leaders in this area are happy to sit and complain about young people, but are unwilling to do anything to change things.
To close, I'd like to set down a challenge to you all: if you're a business owner, accountant, nurse, trainer, HR professional, coach, mentor, parent, brother, sister, aunt, uncle or anything else that means you're a 'grownup' - call your local youth group today and find out how you can get involved. If you're feeling like you want to help but can't see how, do something for Andy, the LYP team and the kids they help instead.
Let's start the change we all need.